100% AUTHENTIC
We don't sell grade or fake parfume
THOUSANDS COLLECTIONS
We provide so many options from designer & niche brand everyday with various type of parfume
BEST CUSTOMER SERVICE
Thousands great feedback & review came from our customer
@Parfumeindonesia.com
Selamat Datang di toko kami
@Parfumindonesia.com sesuai dengan namanya mengkhususkan pada penjualan online parfum asli. Kami telah aktif di Indonesia sejak tahun 2016. Perbedaan utama kami dengan toko/counter parfum adalah bahwa took/counter menjual parfum bermerek dengan harga normal, sementara kami menawarkan diskon besar hingga 80%!
OUR ALL TIME BESTSELLING PARFUME
Berikut ini adalah beberapa parfume pilihan favorit para customer @Parfumindonesia.com
YSL Libre Woman 90ml | EDP
Rp 2,580,000
Libre by Yves Saint Laurent is a Oriental Fougere fragrance for women. This is a new fragrance. Libre was launched in 2019. Libre was created by Anne Flipo and Carlos Benaim. Top notes are Lavender, Mandarin Orange, Black Currant and Petitgrain; middle notes are Lavender, Orange Blossom and Jasmine; base notes are Madagascar Vanilla, Ambergris, Musk and Cedar.
Maison Francis Kurkdjian 724 Unisex 200ml | EDP
Rp 4,960,000
724 by Maison Francis Kurkdjian is a fragrance for women and men. This is a new fragrance. The nose behind this fragrance is Francis Kurkdjian. Top notes are Aldehydes and Calabrian bergamot; middle notes are Sweet Pea, Egyptian Jasmine and Mock Orange; base notes are White Musk and Sandalwood.
Christian Dior Sauvage EDP Man 100ml | EDP
Rp 3,250,000
Sauvage Eau de Parfum by Dior is a Amber Fougere fragrance for men. Sauvage Eau de Parfum was launched in 2018. The nose behind this fragrance is Francois Demachy. Top note is Bergamot; middle notes are Sichuan Pepper, Lavender, Star Anise and Nutmeg; base notes are Ambroxan and Vanilla.
MFK A La Rose Woman 70ml | EDP
Rp 2,889,000
À la rose is a feminine perfume by Maison Francis Kurkdjian. The scent was launched in 2014 and the fragrance was created by perfumer Francis Kurkdjian.
À LA ROSE FRAGRANCE NOTES
Top Notes are Calabrian bergamot, Sicilian lemon, Californian orange. Heart Notes
Floral accord, Rosa centifolia absolute, Turkish damask rose,
Violet. Base notes Cedarwood
Paco Rabanne One Million Parfum Man 100ml | Parfum
Rp 1,778,000
1 Million Parfum by Paco Rabanne is a Leather fragrance for men. This is a new fragrance. 1 Million Parfum was created by Quentin Bisch and Christophe Raynaud.
Sun-drenched leather with salty effects. A warm deliberate scent on the edge of the extreme. Salty pulse: "tuberous salty" textured by amber woods. Leather opulence: accord "solar leather" patinated with notes of resin and pine.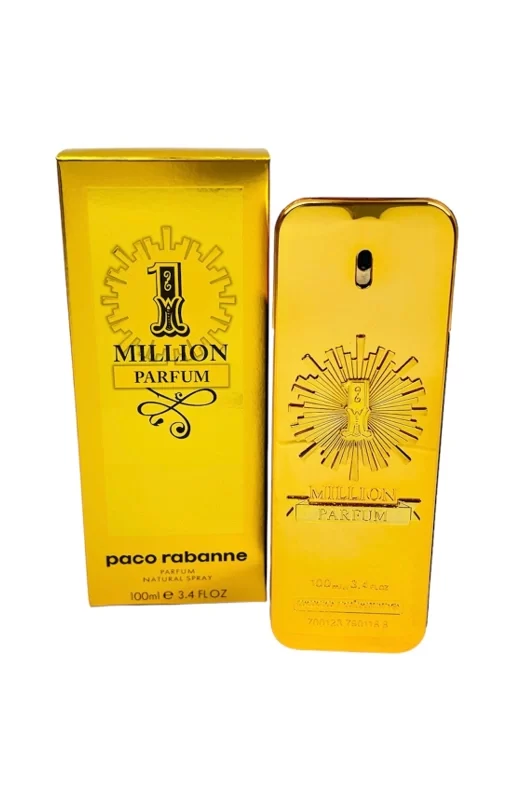 Chanel Coco Mademoiselle Intense Woman 100ml | EDP Intense
Rp 3,880,000
Coco Mademoiselle Intense by Chanel is a Amber Woody fragrance for women. Coco Mademoiselle Intense was launched in 2018. The nose behind this fragrance is Olivier Polge. Top notes are Sicilian Orange, Calabrian bergamot and Lemon; middle notes are Rose, Fruity Notes and Jasmine; base notes are Patchouli, Madagascar Vanilla, Tonka Bean, White Musk and Labdanum.
Hermes Twilly Woman 85ml | EDP
Rp 2,450,000
Twilly d'Hermès by Hermès is a Floral fragrance for women. Twilly d'Hermès was launched in 2017. The nose behind this fragrance is Christine Nagel. Top notes are Ginger, Bitter Orange and Bergamot; middle notes are Tuberose, Orange Blossom and Jasmine; base notes are Sandalwood and Vanilla.
Versace Eros Man 100ml | EDT
Rp 2,999,000
Eros by Versace is a Aromatic Fougere fragrance for men. Eros was launched in 2012. The nose behind this fragrance is Aurelien Guichard. Top notes are Mint, Green Apple and Lemon; middle notes are Tonka Bean, Ambroxan and Geranium; base notes are Madagascar Vanilla, Virginian Cedar, Atlas Cedar, Vetiver and Oakmoss.
@Parfumeindonesia.com
Keuntungan belanja Parfume di store kami
Harga jauh lebih murah
Kami menjual parfum ternama yang pastinya original dan harganya jauh lebih murah daripada store nya
Pengiriman aman dan cepat
Kami mengemas setiap pesanan dengan rapi dan aman hingga sampai dengan selamat di tangan customer
100% original
Semua produk yang kami jual dijamin original, garansi uang kembali jika palsu
Pelayanan terbaik dan 24jam
kami akan melayani anda 24jam setiap harinya, Bila ada masalah customer service kami selalu siap untuk membantu anda
@Parfumeindonesia.com
FAQ (Frequently Asked Questions)
Q : Parfum yang dijual original?
A : Parfum yang dijual hanya 100% asli
TIDAK menjual parfum original singapore (OriginalS), KW, parfum ori negara, unbox dan lainnya
Semua pembelian parfum disertakan box (*baca keterangan detail lebih lanjut di produk)

Q : Apa bedanya dengan parfum Ori Singapore / KW kak?
A : Jelas berbeda, Ori Spore itu hanya istilah yang digunakan seller lain untuk memberi kesan original dari negara lain
Dengan kata lain, parfum itu BUKAN ORIGINAL alias KW
BERBEDA dengan produk yang kami jual
Ciri khas parfum ori singapore terletak pada kemasan box luar dengan stiker hologram dengan kemasan / botol parfum yang kasar


Q : Kenapa harga parfum yang kami jual lebih murah?
A : Kami merupakan tangan pertama dari counter. Barang kami kebanyakan barang sisa stock display / counter, ex display maupun bazaar
Dan beberapa barang kami juga memiliki usia lbh dari 3 tahun (bisa kurang) dari masa produksi
Selain itu cost operational kami jauh lebih rendah dikarenakan berjualan secara online, dibandingkan dengan sewa di mall / counter
BAGAIMANA SAYA BISA MENGGUNAKAN POIN?
Ini sangat sederhana dan mudah. Cukup klik pada tab "Hadiah" dan Anda akan melihat daftar semua diskon yang dapat Anda tukarkan dengan poin Anda. Hal ini akan menghemat pengeluaran Anda pada saat berbelanja dengan kami.
Gunakan 120 poin untuk kupon diskon 5%
Gunakan 200 poin untuk kupon diskon 10%
Client Testimonials
Don't take our word for it – here's what our clients say:
barang sampai dgn selamat dan produknya original, mantap seller
Novy26
Packing oke, cepat sampai, respon seller juga baik …
Fardian
barangnya ori, harga jauh lebih murah dari store
thx seller
R***a
GIFT SET COLLECTION
We provide many gift sets that are perfect for gifts
Contact us
@Parfumindonesia.com
Authentic parfume with the best prize ever